Scots ban on supermarket alcohol deals comes into force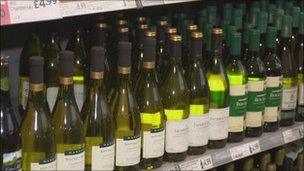 New laws have come into force banning "irresponsible" drinks promotions by retailers in Scotland.
Shops and supermarkets can no longer make offers such as buy-one-get-one-free and multi-buy discounts on wine.
The Alcohol Scotland Act also restricts alcohol advertising around premises, and brings in age verification checks and a new tax on some licence holders.
Tesco has told customers they will still get wine offers online because it will dispatch orders from England.
The act, passed at Holyrood last year, prevents retailers from offer deals to customers who buy in bulk.
The tax, called a social responsibility levy, aims to ensure retailers and licensed premises, such as nightclubs, contribute to the wider cost of their activities on the community.
MSPs have warned that other retailers may remove discounts for quantity but may instead sell single bottles of alcohol for the same discount price.
Instead of three bottles of wine for £10 they may sell one bottle for £3.33.
But Health Secretary Nicola Sturgeon insisted the ban on multi-buy deals would cut alcohol consumption.
She said: "I have had it put to me that supermarkets will reduce the cost of a bottle of wine as a response to this.
"Now minimum pricing of course would have an effect there and we intend to bring back our bill on that.
"But if somebody is going to buy one bottle of wine, as they intended to do when they went into the supermarket, instead of three bottles, that they are tempted to buy because it is on offer, then that is helping us reduce alcohol over-consumption."
In August this year a NHS Scotland report revealed that adults in Scotland were consuming 23% more alcohol than adults in England and Wales.
Wine accounted for the largest rise in consumption, with sales more than doubling since the mid 1990s.
The Scottish government plans to go further in its bid to tackle Scotland's drinking culture by re-introducing minimum alcohol pricing proposals previously blocked by opposition parties.
In January the UK government unveiled plans to set a minimum price for alcohol in England and Wales and calls have also been made for a similar measure to be introduced in Northern Ireland.
Related Internet Links
The BBC is not responsible for the content of external sites.