Online loopholes in Scottish alcohol bill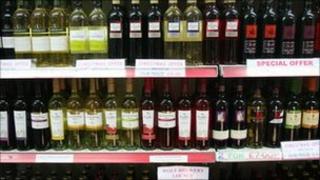 Online deals are being used to get round new laws banning discounted promotions on alcohol in Scotland.
The legislation, which comes into force on Saturday, will stop deals such as two-for-the price-of one and group discounts on wine.
Tesco has emailed customers to say they can still get wine discounts because cases will be dispatched from a depot in England.
Some other retailers are expected to cut the price of individual products.
The Alcohol Bill, passed at Holyrood last year, aims to ban "irresponsible" drinks promotions and restrict advertising of alcohol around premises.
Changes in licensing laws mean customers buying drink in stores or with online grocery orders will not get discounts.
'Watch closely'
But, Tesco advised shoppers in Scotland they can still benefit from cut-price deals.
In an email promotion, Tesco said: ''Great news! All orders placed at TescoWine by the case will still qualify for these discounts when applicable as your wine is dispatched to you from our distribution centre in Daventry, England.''
The alcohol will then be transported across the border from England into Scotland.
A Tesco spokesman said retailers had been highlighting that internet sales would be excluded by the new legislation for some time.
A Scottish government spokesman said: "Internet sales represent only a very small proportion of the alcohol sold in Scotland, but it is an area that we watch closely to see if further action is necessary."
MSPs have warned that other retailers are also looking at removing the quantity discounts and advertising, but will instead sell the same bottles of alcohol for whatever the combined discount price was to begin with.
Labour's health spokeswoman Jackie Baillie said: "We are concerned that, despite reassurances from the SNP government at the time, there still appears to be gaping loopholes in the legislation that are now being exploited by supermarkets."
Conservative health spokesman Murdo Fraser said: "This move by the supermarkets demonstrates precisely the difficulties with the SNP's plans for blanket minimum pricing of alcohol, plans which will easily be got around by internet sales."
The Alcohol Bill also introduces a requirement for age verification and a new tax which could be imposed on licence holders.
The social responsibility levy aims to ensure retailers and licensed premises, such as nightclubs, contribute to the wider cost of their activities to the community.