Scottish apple taster session at Holyrood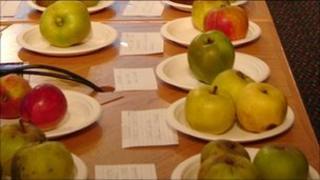 Some of the 250 varieties of apple grown across Scotland are going on display at the Scottish Parliament.
The event brings together growers, enthusiasts, cider makers and even someone making apple flavoured gin.
Holyrood Apple Day celebrates the fruit's heritage, groups planting fruit trees in urban areas and 80 schools who planted their own orchards last year.
John Hancox, from the Commonwealth Orchard group, urged MSPs to provide support for all pupils to grow fruit.
Organisers of the event said that after decades during which fruit trees were grubbed up there are now signs that farmers and landowners are planting new orchards and consumers are keen to buy locally grown produce.
On show will be old heritage varieties of Scottish apples, such as Bloody Ploughman, Galloway Pippin, Arbroath Oslin, Lord Peckover and the far northern Coul Blush.
Other more exotic apples include Byelobarodovaka and Zabergankennete, from Russia but grown in Scotland.
The event is also designed to be an opportunity for MSPs to find out more about their local apples.
Mr Hancox said: "We are delighted how successful our Fruitful Schools project has been -­ last year we planted over 80 school orchards across Scotland, and this year many more are planned.
"We are calling on MSPs to give all of our school pupils the chance to plant, grow, harvest and enjoy eating fruit from their trees.
"We are delighted that so many Scottish pupils have had this opportunity so far, however we call on Scottish government to allow all Scottish pupils to plant and grow.
"Fruit is healthy, and we are calling for the Holyrood parliament to help the next generation to grow a fruitful Scotland."
Mr Hancox has been delivering training in pruning, grafting and orchard management over the past few years and said demand was really high.
"People really want to know how to grow fruit well," he added.