Elaine Murray to stand as Scottish Labour deputy leader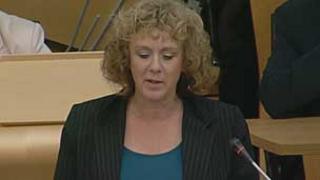 Dumfries MSP Elaine Murray is the latest candidate to announce her intention to stand for the deputy leadership of Scottish Labour.
The post is available because current deputy Johann Lamont is standing to replace Iain Gray as leader.
Other candidates for the deputy's job are Glasgow Central MP Anas Sarwar and North East Scotland MSP Lewis MacDonald.
Glasgow South West MP Ian Davidson said he was seriously considering running.
Mr Davidson, who is currently chairman of the Scottish Affairs committee at Westminster, said he had been approached by a number of people who had asked him to stand for the position.
It is understood he will make a decision and an announcement within the next few days.
Labour conference
So far three candidates - Johann Lamont MSP, Ken Macintosh MSP and Tom Harris MP - have put their names forward as potential replacements for Mr Gray.
Nominations will not open until after a Scottish Labour Conference on 29 October.
Announcing her intention to stand, Ms Murray said: "Democratic socialism and trade unionism are central to Scottish political culture, yet the Scottish Labour Party seems to have lost confidence in what it stands for.
"We have failed to communicate our policies and vision to voters."
She added: "In my view, we have failed to communicate properly with each other too, and divisions have grown up between MPs, MSPs, councillors, activists and trade unionists.
"I believe that the role of the deputy leader must be to facilitate the breaking down of those barriers so that we can go forward together, confident in what we offer Scotland."