Glasgow University sets tuition fees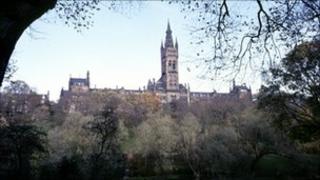 The University of Glasgow has announced fees for students from England, Wales and Northern Ireland.
It will charge annual fees of £6,750 for undergraduate courses.
Those studying medicine, dentistry and veterinary medicine will be charged £9,000.
All rest of the UK (RUK) students entering first year are to be awarded a bursary or fee waiver of £1,000, meaning four-year degree fees will be capped at £26,000.
Glasgow University is to offer significant fee waivers and further bursaries to students from low income households.
For some students this would be worth as much as £12,000 across the course of a typical four-year degree, the university said.
Students who are resident in Scotland do not pay tuition fees at Scottish universities.
Currently RUK students in Scotland pay about £1,800 in tuition fees.
The increase in tuition fees for non-Scots came after the UK government raised the cap for universities in England to £9,000 a year.
Professor Anton Muscatelli, principal and vice-chancellor of the University of Glasgow, said: ''We have also been able to be innovative and imaginative in coming up with a package of measures which, we hope, will make the choice of studying at the University of Glasgow even more appealing.
''We have decided to invest significant amounts in a generous package of bursaries and fee discounts."
Robin Parker, president of NUS Scotland, said the university had "turned its back on students from disadvantaged backgrounds".
He said: "While the costs of degrees will be lower than others in Scotland, this still puts Glasgow up there with anything we've seen from England's universities.
"By setting fees at this level, the university is sending the signal throughout the UK that students from England, Wales and Northern Ireland are valued by the size of their bank accounts, not their ability."
University of the West of Scotland
Meanwhile, the University of the West of Scotland (UWS) has announced fees up to £29,000 for students from the rest of the UK (RUK).
Students will pay an annual fee of £7,250 throughout three and four-year degree courses.
Most universities in Scotland have capped their fees for RUK students.
The UWS said there was no cap, as it was anticipated the vast majority of students would be able to achieve a degree within a three-year period.
The decision follows a university-wide consultation including with the students' association.
A spokesperson for University of the West of Scotland said: ''In setting its RUK fees the university has aimed for equity.
''The RUK fee level is restricted to the amount of tuition income UWS would receive for Scottish students studying on the same programmes.
"UWS will continue to help all students to restrict their study costs by reducing the length of time it takes for them to achieve a degree.
''UWS will undertake further work on arrangements for additional financial support in consultation with student representatives.''
The NUS Scotland president said the UWS decision was "truly astounding".
Mr Parker said: "Only Edinburgh and St Andrews have set more expensive fees, making UWS among the top three most expensive institutions in the whole of the UK.
"This is a huge mistake which could tarnish the reputation not just of UWS but also of Scotland as a whole."
Garry Quigley, president of the Students' Association at UWS, said: "Not only are we disappointed that the university has introduced a ridiculous fee-level, a higher fee than most other Scottish universities, but we are also concerned that the university are not planning to cap fees below £27,000, the maximum possible in England."