Colin Norris jury 'misled' says insulin expert
Nurse Colin Norris was convicted of murdering four elderly patients and attempting to murder a fifth by poisoning them with insulin at two Leeds hospitals.
He was sentenced to 30 years in prison in 2008 but a BBC investigation has uncovered new scientific evidence which could undermine his conviction.
Prof Vincent Marks - a leading expert on insulin poisoning - said the jury at Norris's trial was led to believe by experts that a cluster of hypoglycaemic episodes, among people who were not diabetic, was sinister.
The professor said international medical studies carried out in the years since the 35-year-old Glaswegian was convicted told a different story.
"Looking at all the evidence, all I can say is I think Colin Norris's conviction is unsafe," Prof Marks said.
Norris was arrested 18 months into his nursing career, in 2002.
He came under suspicion when one of his patients, 86-year-old Ethel Hall, died after falling into a hypoglycaemic coma.
As a non-diabetic, there was no obvious explanation for Mrs Hall's plummeting blood sugar levels, so doctors quickly began to fear she had been poisoned with insulin.
A blood sample was sent for tests, and was found to contain massive levels of the insulin hormone.
There was no direct evidence against Norris. He came into the frame because of things he said on that shift, that Mrs Hall "didn't look right" and "it's usually in the morning when things go wrong, about 05:15".
Mrs Hall was found in a coma at about 05:00 on 20 November 2002. She never regained consciousness and died 21 days later.
After police pulled Norris in for questioning - the first of many interviews which took place over three years - they asked a panel of experts to review all patient deaths over a two-year period in the two wards where Norris had worked.
There were 72 in total and the experts concluded that 18 deaths were a high priority for investigation.
The experts narrowed these cases down to four patients: Ms Hall as well as Doris Ludlam, 80, Bridget Bourke, 88, Irene Crookes, 79 - who all died after falling into hypoglycaemic comas, although their deaths were recorded as natural causes at the time.
Vera Wilby, 90, had a similar episode, but recovered, and died eight months later from unconnected causes.
Norris was convicted in 2008 after an five-month trial in which the jury was told that to find five cases of hypoglycaemia in non-diabetics was so rare it must mean murder.
Newcastle Crown Court heard the nurse was on shift during all five incidents and was the one common denominator.
Prof Marks has been an expert in many high-profile insulin cases; his evidence was crucial in the conviction of nurse Beverley Allitt, who poisoned more than a dozen children in her care in 1991.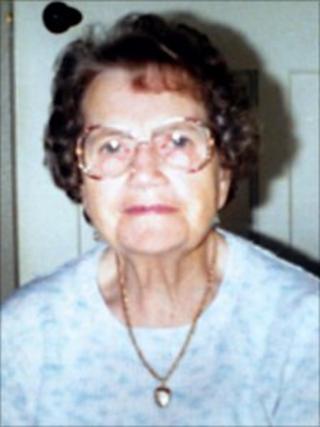 Surrey University's emeritus professor of clinical biochemistry also helped devise the now standard blood test which reveals whether insulin has been produced by the body or administered by someone.
Prof Marks said he had believed that such hypoglycaemic episodes, among people who were not diabetic, was "pretty rare - even in the elderly sick".
However, after reviewing recent studies, he said: "I was surprised at how very common it is in this particular group of elderly, sick people.
"In one very detailed survey, of thousands of patients, it was up to 10%. In others, it was 5% and so on."
He added: "The jury was inadvertently misled. They were led to believe this cluster almost unique and therefore must be considered as one entity.
"I think that was, unfortunately, incorrect."
Prof Marks says the four patients picked out by the experts after Mrs Hall's death "were all at very high risk of developing spontaneous hypoglycaemia" because they had risk factors such as malnutrition, infection and multi-organ failure.
The clinician said without any blood tests, there was no evidence to suggest any of the four patients had been given insulin.
"Using those four cases as evidence of insulin administration, I think, is unsafe," he added.
And he agreed with the medics who, at the time of these deaths, did not consider them to be suspicious.
"I have no reason to believe that the people who cared for all the other patients made the wrong diagnosis, because they saw these patients and they were treating them
"They weren't thinking of them being poisoned. They arrived at what I think was probably the right conclusion, that they died from natural causes."
He said a cluster of five hypoglycaemic patients would not be suspicious in a hospitals where thousands of sick and elderly patients were admitted over the period West Yorkshire Police examined.
But Prof Marks does believe that the first patient who sparked the investigation - Mrs Hall - was poisoned with insulin.
Blood was taken after the patient fell ill, and Marks said the test results fitted with her symptoms - although he admitted the lab was unable to carry out full tests because it was given an inadequate sample.
He also disputes the trial experts' evidence about the timeframe in which the insulin was given.
The jury was told Mrs Hall was injected with a huge dose of insulin less than an hour before she was found comatose. Norris's night shift ended shortly afterwards.
But Prof Marks said: "It must have been many, many hours earlier because the brain showed damage that was described by the pathologist who did the examination as specific to damage produced by hypoglycaemia.
"That only occurs when hypoglycaemia has been present for about six hours or more.
"I would say that by far and away the most likely explanation for all of the findings is that somebody gave Mrs Hall insulin some time between 7pm and midnight, the night before she was found suffering from irreversible brain damage due to hypoglycaemia."
This earlier time frame, which includes a period before Colin Norris' shift started, opens up the possibility of many more hospital employees and visitors having access to the patient.
Prof Marks said: "There's no specific evidence that Norris was the person who gave Mrs Hall the insulin. Somebody gave her insulin, in my opinion. But the timeframe when it was given is uncertain. And the four other cases, I think, are very unreliable.
"There are too many flaws in his conviction to make me think that he's correctly convicted."
Hospital Serial Killer: A Jury In The Dark will be broadcast on BBC1 Scotland on Tuesday 4 October, at 22:35 and on the BBC News channel at 00:30. It will also be available on the BBC iPlayer.