SQA figures show exam cheats let off with warning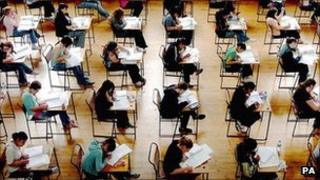 More than a third of school pupils caught cheating on exams last year were let off with a warning, according to figures from the Scottish Qualifications Authority (SQA).
A total of 437 cases of "malpractice" were investigated by the SQA in 2010, of which 242 were proven.
Malpractice includes plagiarism, collusion and using mobiles or notes.
In 83 of the proven cases of cheating candidates were given a warning and faced no further action.
The warning did not affect their right to appeal if they disagreed with their mark and it would only be taken into account if there was any further breach of SQA rules.
About 159,000 candidates participated in 736,920 exams in 2010, ranging from Standard Grades to Advanced Highers, according to the SQA.
The qualifications body said 103 proven cheaters had their external award cancelled, five had parts of their work "revised" and 51 were given a warning and lost their right to appeal.
A spokesman said there have been a "year-on-year decrease" in malpractice, with a drop of 0.01% in the total number of candidates proved to be cheating between 2009 and 2010.
Prohibited items
He said: "While one case of malpractice is one too many it is clear that our awareness-raising activities coupled with rigorous invigilatory and marking processes are proving to be effective."
In 2009, when about 160,000 candidates participated in 736,920 exams, there were 506 cases of malpractice investigated, with 314 proved. More than half, 145, were given a warning that did not bar their right to appeal.
The spokesman said the figures showed a drop in the total number of cases of cheating, from 0.04% in 2009 to 0.03% in 2010.
He said all candidates were given guidance on how to avoid cheating and were given clear instructions about which items were prohibited in examinations, including mobile phones, MP3 players, spell checkers, pencil case notes, books and sketches.