New study says birds learn how to build nests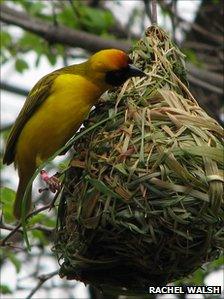 A new study has found birds learn the art of nest-building, rather than it being just an instinctive skill.
Researchers from Edinburgh, Glasgow and St Andrews Universities studied film of southern masked weavers recorded by scientists in Botswana.
This colourful species was chosen because individual birds build many complex nests in a season.
Dr Patrick Walsh of Edinburgh University said the study revealed "a clear role for experience".
The research has been published in the Behavioural Processes journal.
Individual birds varied their technique from one nest to the next and there were instances of birds building nests from left to right as well as from right to left.
As birds gained more experience, they dropped blades of grass less often.
"If birds built their nests according to a genetic template, you would expect all birds to build their nests the same way each time. However, this was not the case," added Dr Walsh.
"Southern Masked Weaver birds displayed strong variations in their approach, revealing a clear role for experience.
"Even for birds, practice makes perfect."
Related Internet Links
The BBC is not responsible for the content of external sites.