France top for Scottish food exports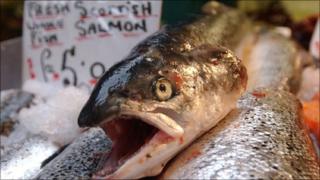 France was the top market for Scottish food exports last year buying £276m worth of products, ranging from fish to fruit and vegetables.
Figures for 2010 from the Scottish government show Ireland was the next biggest market, followed by Spain, Germany and Italy.
Fish formed the majority of exports from Scotland, at almost 60%, while the biggest growth was in fruit and veg.
Whisky was top for drink exports, with the US buying in £499m worth.
Rural Affairs Secretary Richard Lochhead said: "2010 was a record year for food and drink exports and there's every sign that 2011 will be similarly successful.
"Figures for the first half of 2011 show that for both food and drink, exports are higher than ever before and on track for another record year.
"For the first time ever, food and drink exports broke the £2bn mark in the first six months of a year."
Anne MacColl, chief executive of Scottish Development International, said companies were being encouraged to look abroad.
She said: "The strong export performance for the first half of 2011 shows that this approach is paying off, and that our food and drink sector remains ambitious, competitive and has a product which is very much in demand."
The figures were released at the end of Scottish Food and Drink Fortnight, which ran from 3 to 18 September.
Scottish food and drink exports reached an all-time high of £4.5bn in 2010, up 28% since 2007 and up 11% on the previous year.