Rare William Wallace letters going on show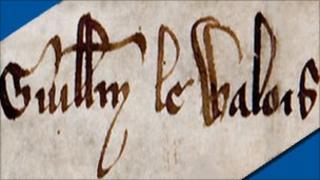 A pair of letters directly connected to Scottish revolutionary Sir William Wallace are to be displayed side-by-side for the first time in Edinburgh.
A 700-year-old letter from King Philip of France will be seen alongside the famous Lubeck letter, next summer.
Wallace led the Scots to a key victory over English forces at Stirling Bridge in 1297, as part of a struggle for independence.
He was hung, drawn and quartered for high treason in 1305.
The dates and venue for the exhibition are still to be confirmed.
The letters are the only two documents directly associated with Wallace.
A year after his arrival in France to ask for support against King Edward of England, Philip wrote to his agents in Rome in 1300 about Wallace.
The document, often seen as grant of safe passage for Wallace, was actually a request from the King of France for Pope Boniface VIII to give his support to the Scot.
The letter, currently held by the National Archives in London, suggests Wallace intended to visit the papal court, but it is not known whether he reached Rome.
Scottish Culture Secretary Fiona Hyslop said: "This exhibition is of tremendous importance - seeing the only two surviving documents directly connected to William Wallace side-by-side will be a unique experience.
"It is likely to give us a new perspective on Wallace's vital role in Scottish history.
"The letter from the French king has been the subject of much speculation since it was discovered in the Tower of London in the 1830s. I am delighted that it is to be brought to Scotland next year and look forward to seeing it on public display with the Lubeck letter."
The National Records of Scotland will borrow the letter from 2012-14, while talks on keeping it in Scotland are ongoing.
The Lubeck letter was sent by Wallace in the wake of his victory at Stirling Bridge, to inform European trading partners that Scottish ports were once again open for business.
Both letters are fragile and can only go on display under controlled lighting for a very limited period every few years.