Danny Alexander 'surprised' over pensions threat claim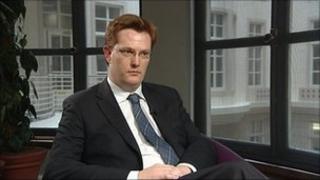 UK Treasury chief Danny Alexander said he was "very surprised" to have been accused of sending a "threatening" letter to the Scottish government.
First Minister Alex Salmond told MSPs Mr Alexander sent the letter over increases in public sector pension contributions.
Mr Salmond had asked for a delay in the move, due to start next April.
Mr Alexander said Scottish ministers had known for almost a year that public sector pensions costs were to rise.
UK ministers said the change was needed to make schemes sustainable in the face of an ageing population.
Scotland's Finance Secretary John Swinney had asked the UK government to consider delaying increased pension contributions until the current pay freeze was over.
However, Mr Alexander said if the Scottish government chose not to implement the rise then its budget would be pegged back by £8.4m a month.
'Financial consequences'
Mr Alexander said: "John Swinney and Alex Salmond are absolutely free to do something on public sector pensions but they will have to pay the price for doing that in terms of their own budget.
"That's a choice they are free to make."
Mr Alexander, a Lib Dem MP in the Highlands, said Scottish ministers would have to "take responsibility for their decisions, which will have financial consequences".
He suggested that frontline public services in Scotland would have to be cut by the Scottish government if it did not go ahead with the rise in pensions contributions.
Mr Alexander also dismissed Mr Salmond's so called "Plan MacB", which the first minister suggested the Chancellor should follow if he wanted to help the economy and reduce unemployment beyond Scotland.
Mr Alexander said: "What Plan MacB? The truth is that Scotland along with the rest of the UK is benefiting from the strength of the decisions that the UK government has taken to deal with the enormous budget deficit that Labour left."