Call for 'pay-as-you-go' broadband to help poorest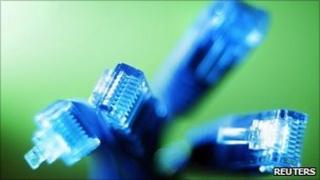 "Pay-as-you-go" broadband and social tariffs are needed to stop a digital divide affecting the poorest in society, it has been warned.
Consumer Focus Scotland claimed that thousands of Scotland's families could not benefit from technology without cheaper rates and easier ways to pay.
Its report on Scotland's digital needs said the internet was becoming essential to access deals and services.
Only 61% of people in Scotland are online, the lowest figure in the UK.
The consumer watchdog said the number of vulnerable people failing to benefit from digital technology gives "great cause for concern".
It also called for clearer independent information and advice to help people get the best deal and choose the right provider.
Recent Ofcom figures suggested that the UK average for online households was 74%. In Glasgow, only 50% of consumers had broadband at home.
About 30% of adults in Scotland said they did not use the internet in any location, compared with 20% across the UK as a whole.
Overall, almost half of households earning less than £11,500 a year did not have the internet, compared with only 4% who earn more than £30,000 a year.
Annie McGovern, digital policy expert at Consumer Focus Scotland, said: "Sadly, people in Scotland lag behind other parts of the UK in connection to digital services and many vulnerable people miss out on the best deals online or find it difficult to access the increasing range of public services that are being delivered via the web.
"The reasons for this include a lack of IT 'know-how' and availability of good broadband speeds, but cost can still be a huge hurdle for many people.
"It's time broadband providers followed the lead of other industries - such as mobile phone operators - and offered more ways to connect such as 'pay-as-you-go' or cheaper social tariffs for vulnerable people on low-incomes."
The report also called for a joined-up digital plan from both the Scottish and UK governments to improve broadband access.