Fund launched to support stem cell research in Scotland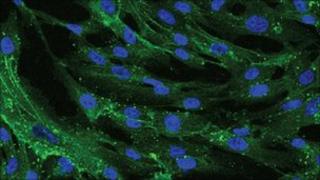 A new fund is being set-up to help pay for stem cell research in Scotland.
Medical charity the UK Stem Cell Foundation (UKSCF) has launched a bid to raise £5m over the next three years.
The money will support the work of researchers and clinicians trying to find treatments and cures for illnesses including diabetes, multiple sclerosis, strokes, blindness and Alzheimer's.
Scottish Enterprise is backing the Scottish Stem Cell Research Fund and has provided a grant of £300,000.
The UKSCF has already supported a number of stem cell research projects in Scotland, in collaboration with Scottish Enterprise.
These have focused on treatments for liver disease, corneal blindness and bone and cartilage repair.
'Exciting area'
Lil Shortland, chief executive of the UKSCF, said: "Scotland is home to some of world's leading stem cell researchers and scientists.
"However, with ongoing pressure on the public purse, it is becoming increasingly difficult to access funding for this exciting area of research.
"We will focus on raising funding for research projects from a range of sources, and would encourage everyone with an interest to get involved."
Andrew Henderson, life sciences manager at Scottish Enterprise, added: "Major opportunities exist for cell therapies in heart disease, stroke, diabetes and liver failure.
"We already have over 20 Scottish companies involved in stem cell activity, and I believe this new fund has the potential to help turn our world-leading science into real commercial success."