Pro-union case needs popular leader, says Jack McConnell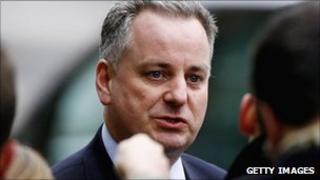 The pro-union case in a future independence referendum campaign should be led by someone with popular appeal, a former first minister has suggested.
Jack McConnell, now Lord McConnell of Glenscorrodale, made his comments during a discussion on the BBC's Daily Politics programme.
He suggested the figurehead should not be a political party figure.
The SNP government has pledged to hold a referendum on independence during the second half of its five-year term.
Former MSP and Labour first minister Lord McConnell insisted a new and positive vision was needed by supporters of the union.
He went on to claim past attempts to simply frighten voters had not worked.
When Daily Politics programme presenter Andrew Neil asked Lord McConnell who would lead the case for the union, he said: "Well I think that is still to be determined.
"There needs to be a figure of some popular appeal, perhaps outwith the parties.
"I think there is a need to re-erect the whole strategy. I think the strategy that was used in the past by some, to try to almost impose a 1950s Britishness on Scotland, failed.
"I think the strategy of just trying to frighten people economically - although there are big worries economically about independence and the referendum - doesn't work.
"What we need is a positive strategy that articulates why Scotland is a stronger and better place inside the UK."
Lord McConnell was Scotland's third first minister, serving in the post from 2001 to 2007.
He stood down after the May 2007 election, when the SNP formed a minority Scottish government, and was made a life peer in 2010.