Scots mark 10th anniversary of 9/11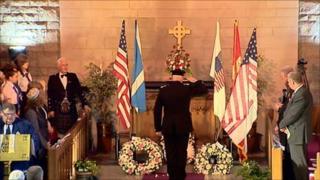 Events have been held across Scotland to mark the 10th anniversary of the 9/11 terrorist attacks.
Faith leaders and politicians took part in a peace walk in Edinburgh.
In Glasgow, an inter-faith service of remembrance was held at Cathcart Old Parish Church, and the first minister attended a service at St Nicholas Kirk in Aberdeen.
Alex Salmond also wrote to the US Secretary of State, Hilary Clinton, expressing Scotland's condolences.
Speaking after the service in Aberdeen, he said it had been a time of prayer and remembrance to all those who lost their lives.
He described how candles had been lit to mark the moment each of the planes had crashed 10 years ago.
"I thought that was extraordinarily effective," he said.
"Most of us, probably all of us, certainly who were adults 10 years ago, remember exactly where we were at that time.
"I thought it was a good way to focus people's attention."
The leader of the Catholic church in Scotland, Cardinal Keith O'Brien, Bishop Brian Smith, Rabbi David Rose, Imam Mohammad Sajjad, Imam Sohail and Wege Singh all planned to join the Edinburgh walk.
Deputy First Minister Nicola Sturgeon attended the Glasgow service.
'Keeping promises'
Reverend Neil Galbraith, founder of Glasgow the Caring City, said: "The 11th of September 2001 was a day which changed the world, and, for Glasgow the Caring City charity, a day when we were called once again to stand up to the mark and act in the name of compassion.
"On that day we made a promise to 'never forget'. We continue to keep that promise and this will be reflected on Sunday."
The Caring City worked with families of victims of the Twin Towers attack in the weeks after the atrocity, bringing many to Scotland for holidays and respite. They also worked with families in New York.
The holidays continued for five years and the organisation still offers support.
The 9/11 attacks killed nearly 3,000 people in New York and Washington, including the loss of 67 British lives.
The vast majority of the dead were civilians, including nationals of more than 70 countries.