Scottish police reorganisation 'nothing new'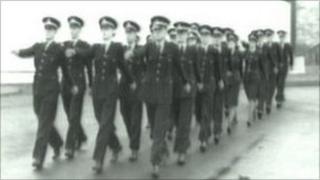 Rationalisation and reorganisation are nothing new for the Scottish police service.
As part of its legislative programme for the coming year, the Scottish government has announced its intention to create a single police force.
The current structure of eight regional forces dates back to 1975, when it was part of local government reorganisation.
Prior to that there was a total of 20 forces based on the old county and city structure.
They ranged from the City of Glasgow police, which claims to be the UK's oldest, to the Ross and Sutherland Constabulary.
For those serving at the time of amalgamation, changes were soon evident.
Harry Morris, now author of a series of humorous looks at the police service under the title "Harry the Polis," was a City of Glasgow constable at the time the Strathclyde force was formed.
"All of a sudden, there was a disappearance of men from the street," he recalled.
"I don't know what the exact reason for this was, but it did seem that where you would have had four beat men doing an area, all of a sudden you would have a panda car doing maybe eight beats.
"They looked at it to see where they could cut back and where they could do this with the regionalisation. We lost the local connection, definitely."
One of the longest-serving Scottish police officers - Det Ch Supt John Carnochan, who heads the Violence Reduction Unit - sees it differently.
He joined Lanarkshire Constabulary before regionalisation, and noticed immediate, but minor changes when it was absorbed into the new Strathclyde force.
"There were lots of conversations that we'd be 'Strathglasgow'," he said.
"Shoulder numerals changed, but everything else more or less stayed the same."
A policy was introduced by Strathclyde police called "interchange," under which any officer given promotion was moved out of his or her old force area into another.
Det Ch Supt Carnochan says it helped make a difference to the culture of the force, which is Scotland's largest.
A number of police functions are already carried out at a national level - including the Violence Reduction Unit he heads.
He says it does not matter to local people how the police service is structured, so long as it offers them a good service.
"When people phone up and want the police, they want you to turn up and do the right thing, and they want to feel they are safe," he said.
"Who the chief constable is, or what the other bits and pieces about strategic direction and governance are, at the end of the day, it'll not make a big difference.
"I think locally people want to know who their local community cop is.
"And that should be the shift in thinking; that idea of community policing."