Violent crime up by 2% in Scotland, says latest figures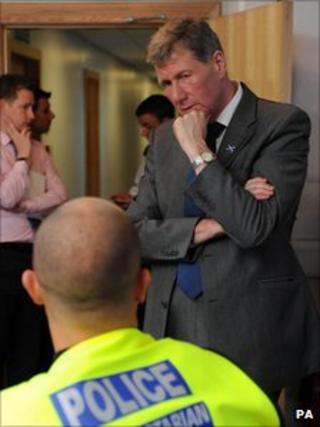 Violent crime has increased in Scotland, while the overall crime rate has fallen for the fourth successive year, according to new figures.
The Scottish government statistics showed a 2% rise in non-sexual crimes of violence over the past year.
The statistics suggested a similar rise in crimes of dishonesty, including housebreaking and theft.
However, the total number of crimes recorded by police fell by 4% to 323,060 in 2010/11.
Justice secretary Kenny MacAskill described the figures as "further good news for Scotland".
He said: "It is no coincidence that recorded crime continues to fall at a time when police officer numbers are strong and we will build on this as we move forward with our police reform plans to protect local policing and improve access to the very best specialist expertise whenever and wherever it is needed.
"I particularly welcome the 11% reduction in crimes involving offensive weapons, an area where we've seen crimes fall by more than a third since 2006-7. We have invested heavily in this area."
Mr MacAskill said he was concerned to see a rise in the figures for rape and attempted rape.
He said: "Last year's legislation gives greater clarity to the prosecution of sexual crimes, but we acknowledge that more needs to be done to improve the conviction rate.
"Lord Carloway is currently carrying out a review of Scots criminal law, and he will examine the principle of corroboration, which affects many rape cases brought before the courts."
Mr MacAskill added: "Following widespread campaigns and specific action around the dangers of drink driving, it is very welcome news to see a drop of 11% in drunk driving offences, and a similar decrease in the figures for dangerous and careless driving."
Though violent crime has risen, the 2010/11 figure is the second lowest in 10 years, while non-sexual violent crimes have fallen about a quarter in a decade.
There was significant regional variation in crimes of indecency, with Northern Constabulary showing a 29% increase whilst Lothian and Borders Police recorded a fall of 13% but the overall figure remained unchanged.
Recorded cases of vandalism, including fire-raising and malicious mischief, fell by 12% to 82,020.
The clear-up rate for all recorded crimes was 49%, which matched the previous two years' figures, while the clear-up rate for non-sexual crimes of violence rose from 67% to 72%.
Mr MacAskill added: "The statistics we have seen this year show Scotland is becoming safer - crime is down, fear of crime is down, the number of people carrying out crime is down, and those who do break the law are being punished swiftly by Scotland's justice system.
"However, we are pledged to do everything we can to keep bringing these numbers down, because crime remains too high.
"Police the length and breadth of Scotland are to be congratulated on their work to prevent and detect crime and catch criminals and I am particularly pleased to see the clear up rate for violent crime is now at its highest level in 35 years."
Scottish Labour justice spokeswoman Johann Lamont MSP described the increases in violent and sexual crime as "deeply troubling" and called for victims to be put "at the heart of the justice system once again".
Alison McInnes, justice spokeswoman for the Scottish Liberal Democrats, said "more needs to be done" to tackle violent crime.
Scottish Conservatices justice spokesman John Lamont congratulated Scotland's police forces for their efforts in cutting overall crime rates.