Stub out car smoke, says charity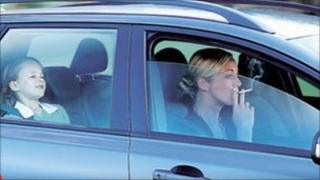 The British Lung Foundation has urged Scotland to follow the lead of Wales and do more to stop people smoking in cars when children are present.
Wales is considering bringing in a ban on smoking in cars when children are travelling, if education programmes do not have the desired effect.
A ban on smoking in enclosed public spaces came into force in 2006.
However, experts said the amount of second-hand smoke children were exposed to had not changed since the ban.
A recent study in Scotland suggested air quality inside a smoker's car was comparable to industrial smog in cities such as Beijing or Moscow - even when the driver had windows open.
Wales has launched a three-year education campaign but has pledged to ban smoking in cars when children are present if that does not work.
In order to test the air quality in a typical smoker's car, BBC Scotland enlisted the help of tobacco control expert, Brenda Friel.
She used an air monitor to measure the air quality in the back seat of a car.
Ms Friel said: "We've got a child-sized doll in the back seat of the car where the child would normally sit.
"We've got a probe at the child's nose where a child would normally breathe.
"This monitor picks up fine particles that come from second-hand smoke.
"At the moment, because there's no smoke in the car, the level is at 10."
The vehicle's owner, John Thomson, admits to smoking in the car when his daughters and grandchildren are with him.
He said: "Generally it's not something I would think about, to go into the car and stop smoking.
"I really should consider them more but... hey ho."
Air quality
John drives the car as he normally would for 10 minutes, smoking a cigarette with the window open. When he returns Brenda checks the monitor.
She said: "It was registering 250 there. If you were outdoors in air quality of that level, you'd be told to go indoors and not do any physical activity. That's the level they were measuring in pubs before the ban came in."
While the ban on smoking in public places in Scotland has reduced the amount of second-hand smoke children are exposed to overall, it has not reduced the number of children being exposed to smoke in cars.
A recent survey suggested this was about one in 15 children.
The head of the British Lung Foundation in Scotland, James Cant, said it had reduced in countries which had got tough on the issue, such as Australia, Canada and the USA.
Mr Cant added: "The news from Wales is very exciting.
"They're going to engage in an intensive three-year education programme but if that doesn't work they are going to look at a legislative option. We don't want children in Scotland to be left behind."
Our experiment has made an impression on one smoker - John Thomson.
"I didn't realise the dangers involved," he said.
"You think, 'Ah the window's open, it's fine' but on reflection it's not fine.
"I don't think I'll be smoking in a car with anybody else in it, let alone kids."