Scots reluctant to ask others about suicidal intentions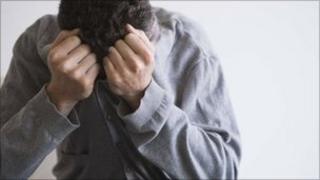 A new survey suggests almost half of people in Scotland would not ask someone if they were feeling suicidal.
The Choose Life survey for NHS Scotland polled around 1,000 adults.
The results showed that 46% of people would not directly ask someone who was showing signs of considering taking their own life if they were suicidal.
However, the poll, to mark the start of Suicide Prevention Week, found that 44% believed a suicidal person would be glad to have someone to talk to.
Choose Life's programme manager Alana Atkinson said: "Suicide can affect anyone and it's not a subject that should be hidden.
"It's important that if you have the slightest inclination that someone you know might be having thoughts of suicide, you ask them about it."
The poll also suggests most people are confident in noticing common signs of suicidal intent in others, such as symptoms of depression, anger, being withdrawn, excessive drinking and hopelessness.
"Mentioning suicide isn't going to put the thought in their head if it wasn't there before; and if it was, they'll probably be relieved that you've mentioned it," added Ms Atkinson.
The Choose Life strategy was launched in 2002 with suicide rates having fallen 14% since then.