Scottish treasure trove revealed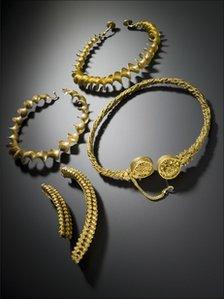 A hoard of gold Iron Age torcs found near Stirling is among the highlights of the sixth annual Scottish Treasure Trove report.
The torcs - which earned the finder a reward of £462,000 - were found in 2009 but reported to the Queen's and Lord Treasurer's Remembrancer last year.
Other "outstanding" finds were a gold button unearthed in Perth and Kinross and a Papal Bulla found in Fife.
Discoveries were also made in East Lothian and the Scottish Borders.
The report covers the period from 1 April 2010 to 31 March 2011 and details finds dealt with by the remembrancer and the Scottish Archaeological Finds Allocation Panel.
Under Scots law, the Crown can claim any archaeological objects found in Scotland.
Finders have no ownership rights and must report any objects to the Treasure Trove Unit.
Catherine Dyer, the Queen's and Lord Treasurer's Remembrancer (QLTR), said: "The report confirms that this has been another magnificent year with some outstanding finds being reported, preserved and displayed in breathtaking museum collections around Scotland.
"Once again I would like to praise the dedicated work of the Scottish Archaeological Finds Allocation Panel, the National Museums of Scotland, the Treasure Trove Unit and the QLTR office."
Ms Dyer also thanked the members of the public who reported finds, so "preserving" the history of Scotland for all to enjoy.
The four neck ornaments - or torcs - were unearthed in a field near Blair Drummond by David Booth in September 2009.
They date from between the 1st and 3rd Century BC and are regarded as the most significant discovery of Iron Age gold objects from Scotland for more than 100 years.
A Medieval dagger pommel, decorated with heraldic shields and dating from the 13th Century, was also found near Blair Drummond in Stirling.
The report also describes a 12th Century silver penny of William the Lion, which was found at Preston Pans in East Lothian.
The coin has been cut neatly in half which archaeologists believe was a quick solution to "small change" when these pennies were the smallest denomination available.
And an elaborate Bronze Age spearhead, discovered at Yetholm in the Scottish Borders, is singled out as a "relatively rare" find which demonstrated the "significant skill" needed to produce such weapons.
Related Internet Links
The BBC is not responsible for the content of external sites.