Incompetent Scots teachers to be barred more quickly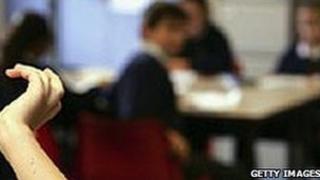 Incompetent teachers may be barred more quickly under proposals put forward by the profession's regulatory body.
The General Teaching Council of Scotland (GTCS) wants earlier hearings for cases, and for the most serious the option of suspension from duties until a full hearing.
The GTCS started striking incompetent teachers off three years ago.
Scotland's largest teaching union, the EIS said it did not want to see cases being dealt with in a superficial way.
Drew Morrice, assistant secretary of the Educational Institute of Scotland, said: "The EIS believes that anyone with a case to answer at the GTCS is entitled to be able to make their case in full and for that to be properly considered.
"We would have concerns if cases were expedited because of a public perception there is a need for a more prompt disposal of cases."
The GTCS's move to change the process is part of an overhaul of its "fitness to teach" rules.
It is undertaking a consultation on the matter ahead of it becoming independent of the government on 2 April next year.
The body said that its aim was to "achieve new procedures that are effective, proportionate, transparent, consistent and sensitive" to those involved.
The GTCS is also consulting on two other issues - the existing code of professional conduct and the introduction of a new student teacher code for those training to join the profession.
The organisation's chief executive, Anthony Finn, said: "We believe that real value will be gained from inviting members of the teaching profession, the educational community and the public generally to comment on the significant changes that the draft Fitness to Teach and Appeals Rules propose.
"Equally, we want to hear the views of the education community on the updating of the existing Code of Professionalism and Conduct and on the proposed new Student Code.
"These are important documents that offer guidance to teachers and aspiring teachers about expectations of them as professionals working in the classroom, and as teachers living in wider society."