College student drop-out rate in Scotland reaches 28%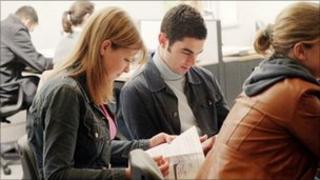 Fresh figures have revealed that 28% of college students in Scotland are dropping out of their full-time further education courses.
The Scottish Funding Council, which produced the report, said the figures reflected the challenges of working with disadvantaged groups.
It added that the figures represented a lost opportunity for individuals.
The report also said that teaching grants and course fees added up to nearly £500m a year.
The figures, published in College Performance Indicators 2009-10, looks at what students study, what background they are from and what age they are.
In 2009-10, about 10% of full-time further education students left their courses before they were a quarter of the way through.
A further 18% left after the quarter-way point and 12% completed their studies but did not get the full qualification they were hoping to achieve. Overall, 60% of students who embarked on their courses achieved passes.
The Scottish Funding Council's chief executive, Mark Batho, said: "To an extent, the statistics reflect the challenges faced by colleges reaching out into communities and trying hard to get people involved in learning.
"However, any level of drop out at all carries a cost to the public purse as well as the human cost of disappointments and lost opportunity.
"Giving people the right opportunity in the right place with the right kind of support is really important in terms of people's progress through lifelong education, and so we will be working closely with colleges to seek improvement in this area."
The Scottish government is currently undertaking a review of post 16 education and vocational training with fresh legislation expected sometime next year.
Following the report, a government spokesman said extra financial support was being given to students - a further £15m spread over this year and next.
He added: "The college sector continues to perform strongly, supported by record levels of Scottish government funding.
"In addition to the 8,500 extra places we have funded over the last two years, this year's Budget provided an additional £8m to yet again fund more places."