Short jail terms 'not the answer' to stop reoffending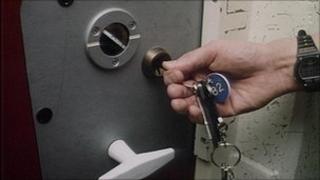 Offenders jailed for three months or less are twice as likely to commit further crime within a year than those sentenced to longer terms, according to the latest figures.
The Scottish government is working to end short-term sentences.
Justice Secretary Kenny MacAskill said the figures made it "clearer than ever" that locking up low-level criminals would not reduce reoffending.
The statistics showed there had been a drop in the overall reconviction rate.
Mr MacAskill welcomed the figures, which see the two-year reconviction rate in Scotland at its lowest level in 11 years.
However, he added that they made it clear locking up low-level offenders was "not the answer".
He said he now wanted to continue the positive work being done to reduce the "appalling re-offending rate" for such criminals.
"We already know that three out of five offenders given a tough community sentence do not re-offend," he said.
"Prison is and always will be the right place for serious and dangerous offenders.
"But the Community Payback Order introduced earlier this year gives sheriffs the ability to send low level offenders out into the community to address the underlying reasons for their offending and to pay back through some tough manual labour."