Teachers face strike ballot over pension changes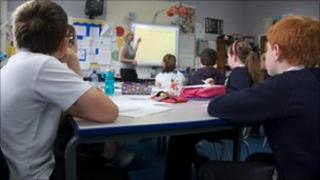 Members of Scotland's largest teaching union look set to be balloted for strike action over pension changes.
A key committee of the Educational Institute of Scotland has recommended the move, which is expected to be backed by the union's ruling body.
If the ballot goes ahead, strike action could take place in the autumn.
EIS general secretary Ronnie Smith said a pension which cost more but paid out less could be "the straw that breaks the camel's back" for teachers.
The union is opposed to the introduction in Scotland of pension changes which are currently being planned in England.
The Scottish government is believed to be in talks with the UK government over those proposals and has yet to decide whether to adopt them north of the border.
But as power over pensions is not devolved, the Scottish government's proposals will ultimately have to be agreed by the Treasury in Westminster.
The call for a strike ballot has come from the union's strategy sub-committee.
Working longer
Mr Smith said teachers were prepared to take "firm action" to fight pension changes.
"At a time of imposed pay freezes on public sector pay, coupled with soaring prices for food, fuel, clothing and transport, teachers are not prepared to accept further erosion in their living standards," he said.
"For hard-pressed teachers, the prospect of paying more of their salary into a pension scheme with the promise of working longer and getting far less at the end, just might be the straw that breaks the camel's back.
"The EIS sincerely hopes that the government is listening and changes course on pensions, but we stand ready if they fail to do so."
He said the committee's recommendation was "a warning that the government cannot afford to ignore - teachers will strike on this issue if forced to do so".