MSP urges action over insulin pump therapy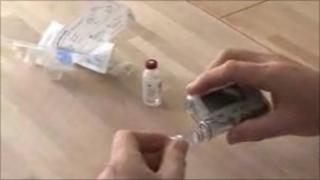 Scotland still lags behind the rest of Europe in its provision of insulin pumps to treat diabetes despite recent progress, a Tory MSP has said.
Margaret Mitchell argued health boards needed to provide more pump therapy.
The therapy gives Type 1 diabetes patients more flexibility and can reduce the risks and complications associated with the disease.
Figures from the Scottish Diabetes Survey 2010 showed only 2.5% of Type 1 patients in Scotland used the pumps.
This compared with 15% across Europe.
However, Scottish government statistics show health boards have been making progress in making the treatment available to more people.
Figures indicated NHS Ayrshire and Arran has more than doubling its spending on the therapy to nearly £72,000 this year.
Meanwhile, NHS Greater Glasgow and Clyde has nearly doubled the number of paediatric patients using pump therapy in 2011.
Boards 'on track'
Central Scotland MSP Ms Mitchell said: "It is great to see that insulin pump therapy is growing and becoming more mainstream in Scotland and that the majority of Scotland's health boards are on track with their planned investment in insulin pumps.
"The provision of insulin pump therapy needs to be boosted significantly and health boards need to continue to invest in pumps and structured education so that more patients are eligible to use insulin pumps."
A Scottish government spokesman said it was committed to ensuring that people with diabetes had access to the best possible care.
He continued: "Our Diabetes Action Plan, published last year, set out a three-year vision for improving services offered to those living with diabetes in Scotland.
"We're encouraged to see that provision of insulin pump therapy is shown to have increased.
"However, we recognise there is much more work to do and will continue to encourage NHS boards to increase the availability of pumps, ensure more equitable provision and build on the improvements already made in diabetes care through the implementation of our Diabetes Action Plan."