George Square in Glasgow closed for World War Z filming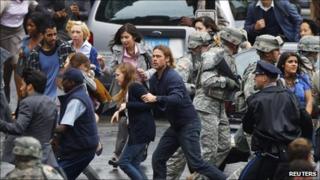 Roads in Glasgow city centre will be closed to traffic over the weekend as filming for World War Z continues.
Parts of the city have been transformed to replicate Philadelphia where the post-apocalyptic zombie movie starring Brad Pitt is set.
George Square will be closed to motorists on Saturday with pedestrian access limited.
A dramatic crash scene has already been shot with extras dressed as US soldiers and zombies wandering the streets.
However, members of the public hoping to catch a glimpse of Brad Pitt and the rest of the 1,200-strong cast and crew in action may be disappointed.
Ahead of schedule
The council has warned there will be limited opportunities for visitors to watch the filming.
Residents and businesses in areas where filming will take place have already been consulted with by the film's production office and are aware of the filming and production details.
Filming is ahead of schedule meaning the closures which were originally planned for Sunday are happening a day earlier.
Work on the Paramount Pictures movie, which is based on the Max Brooks novel World War Z: An Oral History of the Zombie War, has already taken place in Valletta in Malta and in Cornwall.
Last weekend filming moved to Grangemouth.
Brad Pitt was seen at the wheel of a camper van which was hooked up to a truck and driven down Wholeflats Road, near the town's oil refinery.
Filming in Glasgow is expected to be completed on 31 August.
CLOSURES
ROADS - The following streets around the City Chambers and George Square will be closed to motorists: Cochrane Street; South Frederick Street; Hanover Street; George Square (north side of square from North Hanover Street, east and south side); North Frederick Street (from George Square to Martha Street); George Street (from George Square to John Street); and North Hanover Street from the junction with George Square.
Motorists will get access to Queen Street Station for south and northbound traffic. North Hanover Street southbound traffic is closed from Queen Street Station onwards. Access northbound from George Square is unaffected except on Saturday 27 August when George Square will be fully closed.
PEDESTRIANS - Pedestrians will have access to the George Square area throughout filming although routes may vary and they may be asked to stop by security for a short time when cameras are rolling.