Nick Helm says 'funniest' Fringe joke was his dad's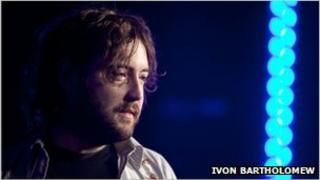 Comedian Nick Helm said the joke which won him an award for the funniest gag at the Edinburgh Fringe was written by his dad.
He won digital channel Dave's award for the joke: "I needed a password eight characters long so I picked Snow White and the Seven Dwarves."
Helm, who is also nominated for the Foster's Edinburgh Comedy Award, said it was "weird" winning the joke prize.
"They come and pick a joke. I didn't know I was in the running," he said.
"They said to me: 'By the way, you have won best joke' and I said 'Oh really what was the joke?'
"When they told me I said: 'That's the one my dad wrote'."
Dad joke
Helm added: "My dad has beaten Tim Vine.
"He e-mailed it to me and I rewrote it but it is my dad's joke.
"That's a proper dad joke. My dad is chuffed. He's getting half the award money."
Helm, who is only performing a full-length show in Edinburgh for the second time, said he could not let the success go to his head.
He said: "I have still got a show to do. I have to have a nervous breakdown on stage every night. I have to get in character."
Helm's stage persona has been described as a "bellowing madman", a phrase he reluctantly accepts.
However, he rejects any accusation that he humiliates the audience.
"I humiliate myself and then make the audience save me and redeem me but it is a bumpy road.
"Some people get it straight away and some people walk out before I have managed to apologise to them all."
He added: "It is an hour of shouting and then at the end you are saying 'he probably needs a hug more than anything'.
"I don't humiliate the audience. I humiliate one member of the audience and then they look amazing for the rest of the day.
"I turn the audience into heroes."