Edinburgh Book Festival sculptures are a 'whodunnit?'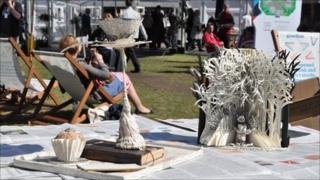 Mysterious sculptures have appeared at the Edinburgh Book festival - and no-one knows who left them.
Festival staff said they were "mystified and thrilled" by the gifts which have labels giving enthusiastic support to "literature and ideas".
The two sculptures were found on a signing table at the book shop and the entrance tent.
One is of a tray, with a cup of tea and a cupcake. The second is entitled Lost (Albeit in a good book).
It has a paper figure inside a forest created from a copy of James Hogg's Confessions of a Justified Sinner.
The tea tray is inscribed "this cup is awarded to @edbookfest" - the festival's Twitter address.
It also contains a teabag full of letters, an unmarked book - and has a label marked "in support of libraries, books, words, ideas and festivals".
Over the past year similar sculptures have been left at the National Library of Scotland, the Scottish Poetry Library and the Scottish Storytelling Centre but their creator remains a mystery.
Festival director Nick Barley said: "I think there are seven or eight of these sculptures which have been delivered around the city.
"I would like to see them all together in a public place.
"It is an incredible piece of art that has the book at the centre of its work."