Edinburgh Comedy Awards shortlist announced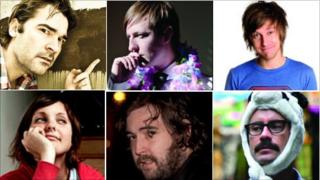 The nominees for this year's Foster's Edinburgh Comedy Awards have been unveiled.
The shortlisted acts include Josie Long, who missed out on the award last year, Andrew Maxwell and Nick Helm.
Chris Ramsey, Adam Riches and Sam Simmons are also nominated for the award, now in its 31st year. The winner will be announced on Saturday.
Last year's winner was Russell Kane. Previous winners include Lee Evans, Steve Coogan and Al Murray.
The awards, which have been running since 1981, were formerly known as the Perriers and the If.Comeddies.
"Star" names, who have already had a TV series or can perform in a 500-seat venue under their own name, are not eligible for the award.
However, the judging panel did see 505 different shows over the three weeks of the Fringe.
The full list of nominees for best comedy show is:
•Adam Riches: Bring Me the Head of Adam Riches
•Andrew Maxwell: The Lights Are On
•Chris Ramsey: Offermation
•Josie Long: The Future Is Another Place
•Nick Helm: Dare to Dream
•Sam Simmons - Meanwhile
The prize for the Best Comedy Show is £10,000 and there is also a £5,000 for best newcomer.
Nica Burns, producer of the Foster's Edinburgh Comedy Awards, said 2011 was an "exceptional year for newcomers" and the panel was "spoilt for choice".
She said: "This inspired the longest debate in the history of the Newcomer Award, and a second vote. Result: an unprecedented shortlist of eight, all of whom the panel feels should be encouraged, as they clearly have a brilliant future in comedy."
The nominations for best newcomer are:
•Cariad Lloyd: Lady Cariad's Characters
•The Chris and Paul Show
•Hannibal Buress- My Name is Hannibal: The Hannibal Montanabal Experience
•Holly Walsh - The Hollycopter
•Humphrey Ker is Dymock Watson: Nazi Smasher!
•Josh Widdicombe: If This Show Saves One Life
•Thom Tuck Goes Straight to DVD
•Totally Tom