Scottish mining experts to gather for Edinburgh forum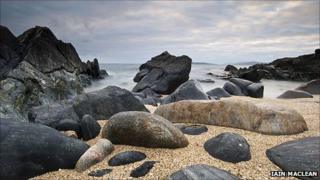 Challenges to Scotland's mining industries and mineral resources are to be discussed at the first conference of its kind in 13 years.
The Scottish Minerals Conference will get an update on plans to extract gold in the Loch Lomond National Park.
Speakers will also tackle geothermal energy, carbon capture and storage and resources of a mineral called zoesite on the Isle of Harris.
The one-day event will be held in Edinburgh in November.
Organised by the Mining Institute of Scotland and Central Scotland group of the Geological Society, the conference will be held at British Geological Survey's Murchison House.
Chris Sangster, chief executive of Scotgold, is expected to explain the latest developments on plans to mine for gold at Cononish, near Tyndrum.
Scotgold submitted a fresh planning application for the mine in July after the first one was rejected by Loch Lomond National Park Authority.
The history, environmental impact and future potential of oil shale mining in the River Almond's catchment will also be presented to conference delegates.
Steve Bedford, from BP North Sea, is scheduled to talk on developments in North Sea oil and gas.
The sector has been in the spotlight in recent weeks following a release of oil from a leak near the Shell's Gannet Alpha platform.
Another speaker, John Busby, British Geological Survey renewables and energy security team leader, will ask if geothermal energy could contribute to Scotland's renewable energy mix.
Last month, a scientist suggested hot rocks far below the surface of Scotland offered a means of generating electricity.
Ed Stephens, a geologist at St Andrews University in Fife, said the Cairngorms and East Lothian had the potential for geothermal systems.