Cunning stunts up for Edinburgh Fringe award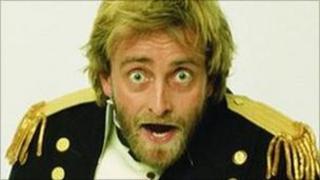 The shortlist has been announced for an Edinburgh Fringe award which celebrates the lengths some performers will go to promote their shows.
Tim FitzHigham, who broke bones responding to "dares" from the audience, has been nominated for the Malcolm Hardee Cunning Stunt award.
Sanderson Jones, who would only sell tickets to people he had met, is also on the shortlist for the award.
A third nominee gave audience members an obscene method of defacing posters.
The act, which we will call KATG, encouraged their audiences to stick promotional penis stickers on other comedian's posters.
There were complaints from venues and performers when hundreds followed their lead.
Former door-to-door salesman Sanderson Jones dispensed with flyers and promoters and attempted to sell every one of his tickets personally.
He said it allowed customers to "try before they buy" and it let him find out more about his potential audience.
Tim FitzHigham, who has previously rowed across the English Channel in a bath and paddled a paper canoe 160 miles (258km) down the River Thames, has this year been taking on outrageous bets and getting unintentional injuries.
He broke a rib when he fell against a fence post taking on a racehorse in a 100-yard (91m) sprint, sprained his wrist throwing a cheese board over a four-mile (6.4km) distance and fractured his big toe pushing a wheel barrow 25 miles (40km).
To make matters worse, an earlier broken finger is infected and may require medical treatment.
Awards organiser John Fleming said the fact a publicity stunt was unintentional did not necessarily disqualify it from winning - as Stewart Lee proved last year.
Lee won the Cunning Stunt award for accidentally promoting Japanese act Frank Chickens, who were not even appearing on the Fringe.
Edinburgh veteran Lee had been trying to undermine the vote for a "Comedy God" on the Foster's Edinburgh Comedy Awards website.
The Malcolm Hardee awards are presented in memory of the late "godfather of British alternative comedy".
They include an award for Comic Originality for which the shortlist is Doctor Brown, James Hamilton, Bob Slayer and Johnny Sorrow.
There is also a category called "act most likely to make a million quid".
Bennet Brandtreth and Josh Widdecombe, who is described as "possibly the new Michael McIntyre", are nominated.
The winners will be announced on Friday night.