Theatre Ninjas fill empty Edinburgh Fringe seats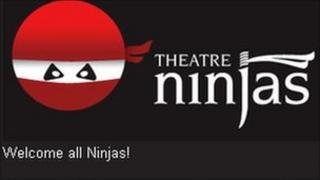 We all know about the hit shows at the Edinburgh festival.
The sell-out runs where you have no hope of securing a seat in a month of Sundays.
But for every sell-out show, there are several more where the cast outnumber the audience, and the show is drowned out by the ticking clock and the sound of laughter from the much better show next door.
That is what the Theatre Ninjas aim to sort.
Set up on the Fringe last year by a team of young arts practitioners with a £1,000 grant, the premise is simple.
Shows struggling to fill a venue can offer a clutch of free or cut-price tickets on the day.
The ninjas offer them up on their own website, which is also downloadable as a smartphone app.
Comedy sketch
They give you a code word which you take to the venue box office 20 minutes before the show, and with luck, you should get a free ticket.
I put it to the test on Monday night.
The show I chose, a comedy sketch show called Keeping the Captain Warm, was at Just the Tonic, one of the labyrinth of rooms beneath North Bridge - not a venue I would normally have wandered into.
I picked up my free ticket - I was the first to do so - and took my seat in the venue, which quickly filled up.
It was a funny enough show - although the belly laughs in the row in front suggested some close friends or fellow professionals were in the house.
But it was busy and lively - and was a much better atmosphere for both audiences and performers than a half empty venue with half- hearted laughs.
How does it differ from "papering the house" - or giving away most of their tickets free - as some companies are known to do, at least in the first few days?
According to the Theatre Ninjas, it is because those who log onto their website are genuinely keen to see a show, and not just sightseers on the Royal Mile (who might not turn up, even when handed free tickets).
They are more discerning but also more supportive, and having consciously chosen a performance, probably will not leave half way through (unless it's really terrible.)
The plus side for the companies and venues - aside from a better house - is the knock-on publicity.
Word of mouth is still the best way to sell a show so a few extra people talking about how much they enjoyed it, is always helpful in that tough final week of the Fringe.
For audiences, it is a cheap way to see a few extra shows, with 80% of the 10,000 tickets offered taken up.
And since the app has GPS, you have no excuse for not finding that obscure show in a far-flung venue.