Comedian Mark Thomas up for human rights award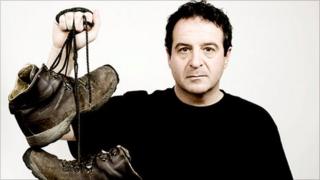 Comedian Mark Thomas has made the shortlist for the Amnesty International Freedom of Expression awards.
The Edinburgh Fringe award is given each year to an outstanding play carrying a human rights message.
Thomas's comedy show is about his decision to walk the length of the Israeli West Bank Barrier.
It is up against three plays - Release, by Icon Theatre; Sold, directed by Catherine Alexander; and The Wheel, directed by Vicky Featherstone.
Organisers said it may be the first time that a comedian had been shortlisted for the award.
The winner will be announced on Thursday.
Release, which is at the Pleasance Dome, is a piece of physical theatre about prisoners in the months after they are let out of jail.
Sold, at the Pleasance Courtyard, is a complex play about the hidden world of human trafficking.
World in conflict
The judging panel praised its "passion to expose a form of abuse that is just not going away".
The Wheel, at the Traverse, is set against the backdrop of a war-torn country.
It asks whether it is possible to travel through a world in conflict and remain unaffected.
The judging panel commended its "huge ambition in storytelling and acting, its sense of poetry, and its very distinctive perspective on the horror of war and its impact on children".
Mark Thomas's Extreme Rambling (Walking the Wall), at The Bongo Club, was described by the panel as an "incredibly accomplished piece of storytelling".
Amnesty International Scotland director John Watson said: "It's heartening to see so many artists tackling human rights themes in their productions at the Fringe this year.
"It's testament to the power of the arts to inform, challenge and inspire audiences to approach an issue from a new perspective."
He added: "This is the first time I can recall a comedian being shortlisted for the award.
"It's encouraging to see that Fringe performers across all disciplines are addressing human rights issues and that comedy audiences are being challenged as well as entertained at the festival."
Recent winners of the Freedom of Expression Award include Roadkill by Cora Bissett.