Scottish seas resilient against CO2 acidification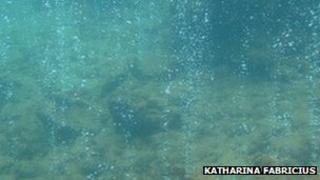 Scotland's coastline is well placed to survive the rising levels of carbon dioxide destroying life in the world's oceans, according to researchers.
A study by scientists at Plymouth University looked at the increasing acidification of the seas.
It found coastal ecosystems which support seafood stocks were being damaged as they absorbed more CO2.
But Dr Jason Hall-Spencer, who carried out the research, said waters around Scotland might be more resilient.
As part of the research an international team of underwater divers focused on a series of giant underwater volcanoes, which emit CO2 into the seawater.
The scientists were then able to work out what dies and what can survive as coastal areas become more and more acidified.
High biodiversity
They found that rising levels of CO2 were damaging seafood stocks, destroying coral reefs and in the long term could lead ultimately lead to places like the Maldives disappearing completely.
The researchers are calling for urgent action to lower CO2 emissions and increase marine conservation efforts worldwide.
However, they said the ecosystems in the seas around Scotland were more likely to survive increasing acidification.
Dr Hall-Spencer said: "Places that have got plenty of food in the water, like around Scotland, might be more resilient to the effects of ocean acidification than places like the Mediterranean where we did these studies.
"That's a hopeful outlook though.
"What is clear that we need to do is rein in the amount of carbon dioxide we put into the atmosphere, and all protect areas that are known to be of high biodiversity."