Deadly Steve looks for adventure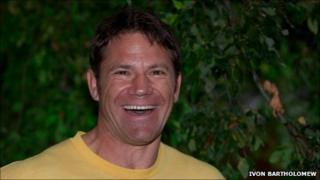 Steve Backshall claims he feels more comfortable looking for dangerous animals in some of the earth's remotest places than visiting a city such as Edinburgh to talk about his work.
The action man TV presenter's Deadly 60 show has made him a big hit with CBBC viewers and their parents but he is finding it hard to adjust to the adulation and celebrity it has brought.
The programme seeks to find, film and explain some of the most dangerous animals on the planet.
To Backshall it is what he has been interested in since he was a child and the latest job in a 13-year career in television.
At the Edinburgh International Book Festival, Backshall delivers a talk on his travels in New Guinea, the land which sparked his interest in the world's great wildernesses when he was just seven years old.
But the question and answer session which follows is completely dominated by children asking about deadly animals.
"The danger of animals is massively overstated," Backshall says.
"In almost every case the animal would rather get away from you."
"Last week I was in Alaska really close to a grizzly bear hunting for salmon and next week I'm going to be in South Africa watching Great White sharks.
"In all my time with dangerous animals I have had very few I would call nasty encounters."
Eyes wide open
Backshall says young children are "automatically fascinated" by wildlife and it is society which teaches them to be afraid.
"If I do a talk to very young kids, they might not be listening at all but if I bring out an animal they are eyes wide open and very excited.
"Nobody is frightened, even if you bring out a big hairy spider.
"Come back at eight or nine years old and they will have learnt from their parents and their teachers that they should be frightened."
"All of a sudden you see these fears and phobias creeping in."
He says he gets hundreds of emails every week from children who have seen the programme and "all they want to do is go out and catch beetles".
"That's not what I set out to do but what a wonderful result. It is a very happy accident."
"One of the things that I have noticed a lot as well is that kids will absorb facts at a far greater degree than adults.
"There is far more factual content in any of the kids programme I do than the adult programmes I do, because kids are used to learning. They are used to taking in information."
In his Edinburgh talk, Backshall brushes off an incident in 2008 when he fell while climbing in the UK breaking his back and dislocating his ankle.
It has entailed years of operations, the most recent of which led to further infection and delayed some of his filming work.
However, enforced periods of inactivity have allowed Backshall to concentrate on writing.
His latest book Looking for Adventure examines his childhood dream of travelling to New Guinea and how, after an aborted attempt when he worked for the Rough Guide to Indonesia in his 20s, he fulfilled his ambitions with a BBC TV crew.
He returned to the remote jungle wilderness and led the first expedition into extinct volcano Mount Bosavi.
The naturalist says that his publishers made him put more about himself in the book.
"It sounds incredibly pretentious to say I have found something out about myself by writing this book but actually I really have.
"I meant the book to be about expeditions and to be about wildlife and a bit of anthropology.
"My literary agent said to me it is too dry.
"They said: 'It needs to have some of you in there. Why do you do this? What motivates you?'"
Such questions made Backshall sit back and examine why he had spent his life consumed by this interest in wildlife and wilderness.
"If I wasn't doing this for television I would be doing it some other way," he says.
"I'd be leading expeditions, I'd be a safari guide, I would be doing something in the outdoors with wildlife."