Report calls for Scottish colleges to do better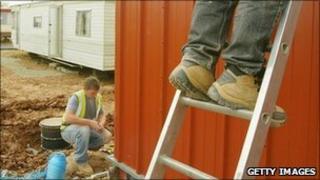 The Scottish government is being urged to allow poorly performing colleges to merge, change their leadership or drop some of their services.
A major report indicated that the provision of good courses in colleges and apprenticeships was at present "disaggregated and tentative".
The assessment came in the Review of Post-16 Education and Vocational Training in Scotland.
Skills Minister Alasdair Allan said the government welcomed the report.
He added that the review, which was carried out by Willy Roe, would be considered in conjunction with the Christie Commission which is looking into how public services are delivered in Scotland.
Mr Allan said: "It is vitally important that we do everything we can to support our young people to develop the skills and knowledge they need for the workplace.
"Willy Roe's report contains a number of suggestions to put the learner at the centre of the journey and improve the education and training that we offer young people once they have left school."
John Spencer, convener of Scotland's Colleges Principals' Convention, said the review was wide ranging and time was now needed for careful reflection and consideration by the sector.
He added: "We agree that post-16 education and training is vital to economic recovery and prosperity.
"Colleges work in partnership with thousands of businesses across Scotland to up-skill their workforce and to respond to future labour demands."
David Watt, of the Institute of Directors in Scotland, said he was receptive to the idea of rationalisation of the sector to ensure better value for money.
He explained: "We have over 40 Further Education Colleges in Scotland which is mad. There's a case for 40 campuses so that students don't have too far to go, but there's no need for 40 different hierarchies."
Mr Watt said he also believed colleges could become more focused on what courses and skills employers and students needed.
Links between colleges and employers are too patchy and unstructured, he added.
Mr Watt cited sports coaching as an example of college courses which are popular with students but lead to relatively few jobs.
He went on to call for a greater focus on courses such as engineering for jobs in the energy sector, which he said struggled to recruit enough skilled staff.
Strategic focus
In August 2010, Mr Roe was asked by the government to undertake a review of the vocational education and training available to people over the age of 16 living in Scotland.
He is the chairman of the Highlands and Islands Enterprise and was latterly chairman of Scottish government agency, Skills Development Scotland.
In his report he said: "A new sharper strategic focus on workforce development in Scotland should be based on three broad principles - support businesses to create more jobs and more highly skilled jobs; invest in the right attitudes, capabilities and skills and use information and incentives as levers to raise employer and individual ambition and investment in skills."