Scottish daily paper sales slip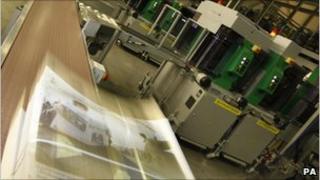 The Scotsman newspaper's sales have slipped below 40,000 for the first time in modern times, according to figures.
It sold an an average of 38,987 copies each day in July - nearly 4,000 down on the same month last year.
Its Glasgow rival The Herald also saw sales drop to 47,226 - also a low - and almost 5,000 down on last July.
However, many Sunday papers - including the Sunday Mail and the Sunday Post - got a boost following the closure of the News of the World.
July is often the worst month of the year for newspaper sales, with many readers on holiday. August usually brings an improvement.
But the annual trend suggests that the decline in the circulation of Scotland's two main quality newspapers is continuing.
Sales gap
There was better news for Sunday papers though.
The closure of the News of the World helped the Sunday Mail gain sales. It sold 411,755 copies - 22,000 more than last July.
The Sunday Post saw its Scottish sales go up on the year from 225,387 to 229,016 although its overall circulation still fell slightly.
The Sunday Herald, which has recorded disappointing sales figures since its relaunch as a news magazine, also put on sales in July, rising to 32,508. But this was still down by about 7,500 on the year.
This rise may be due to a special promotional offer which allowed Herald readers to buy the paper at a reduced rate.
Meanwhile, the Daily Record sold 275,175 copies a day in Scotland - nearly 40,000 less than its arch rival the Scottish Sun.
This is the Record's lowest sale north of the border in modern times but the gap with The Sun was wider last July. The Record sold a total of 305,226 copies a day once sales south of the border and overseas are added in.
In recent months sales of the Record have been largely stable and July's figure suggest that changes to the paper in recent weeks are not having much of an effect on sales, at least so far.
Some 80 jobs at the paper have been cut and some features and stories from outside Scotland are being shared with its sister title the Daily Mirror.
However, the company is adamant that claims the Record is on the path to becoming a Scottish edition of the Mirror by stealth are unfounded.
All the other popular Sunday papers - The Star, The People, the Sunday Mirror, the Sunday Express and the Mail on Sunday - also appeared to make significant gains by attracting former News of the World readers.