Nine areas in Scotland listed in local TV venture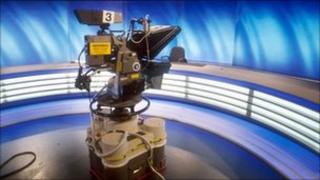 Nine areas of Scotland could be in line for their own local television stations, under plans announced by the UK government.
The first licences are due to be awarded next year.
The licence fee will finance some start-up costs, but advertising is likely to fund the services.
The Scots locations include Aberdeen, Dundee, Edinburgh and Glasgow, Inverness, Falkirk, the area around Greenock, Elgin and part of Ayrshire.
Previous attempts to establish local TV stations in Scotland - such as Lanarkshire Television in the late 90s - have failed.
Culture Secretary Jeremy Hunt announced 65 locations across Britain which are in the running to launch the local services which he has championed.
They have been chosen because they have the appropriate transmitter coverage. The list will be whittled down to around 20 by the end of the year.
Licences will be awarded after the Department for Culture, Media and Sport (DCMS) has judged the level of interest from potential broadcasters and audiences.
Each of the areas will now be asked to make the case for why their town should be among those awarded a licence by Ofcom, with the first wave due next year.
The government is also canvassing opinion from potential operators about which locations are likely to make the scheme a success.
Mr Hunt said: "We need to decide which areas are best placed to pioneer the new service.
"These new, local TV services will be a fundamental change in how people get information about their own communities, and how they hold their representatives to account.
"I want people to be able to watch television that's truly relevant to them, about what's happening where they live and featuring the people they know."
Mr Hunt will host a series of events in major cities around the UK to discuss issues and explain how local TV could benefit communities.
Public funds
Reacting to the announcement, Scotland's minister for culture, Fiona Hyslop, said the plan fell "far short of the mark".
She explained: "We have real concerns about Jeremy Hunt's proposals which would leave gaping holes in provision, particularly in rural areas.
"Dumfries and Galloway and the Scottish Borders are arguably the parts of Scotland most in need of local television. Viewers here currently receive local news on Channel 3 which is broadcast from Gateshead.
"Nothing in these inadequate proposals would deliver benefits for viewers in these areas, which are not even on the list of eligible locations."
Ms Hyslop said a publicly-funded Scottish Digital Network was the best way to sustain and support local television services.