Soldier allegedly cut fingers off dead Taliban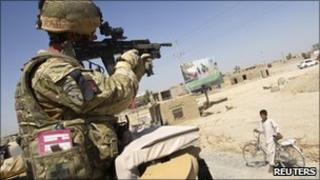 The Ministry of Defence is investigating claims that a soldier sliced fingers off dead Taliban fighters to keep as souvenirs.
It is understood the allegations relate to a soldier from the Argyll and Sutherland Highlanders who was serving in Afghanistan.
The claims centre on the battalion's last tour of duty in the country.
It was deployed in Helmand from September 2010 until April this year, tasked with training Afghan police.
Soldiers from the Argyll and Sutherland Highlanders, 5th Battalion, The Royal Regiment of Scotland, are recruited in Scotland but based in Canterbury, in Kent.
Douglas Young, executive chairman of the British Armed Forces Federation, said he was "shocked" to learn of the investigation.
He added: "While the facts still need to be established, if there turns out to be anything in these claims, clearly the MoD are correct to treat the matter very seriously.
"The alleged behaviour is totally out of kilter with the ethos of the armed forces."
The MoD would not be drawn on whether the soldier in question had been suspended pending the investigation's findings.
A defence spokesman said: "This is a very serious allegation and it would be wrong for us to comment. An investigation is ongoing."