'Dummy election' for electronic vote counting machine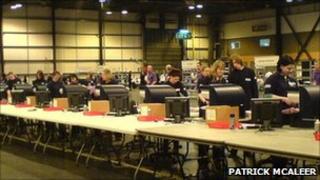 New electronic vote counting technology has beeen tested in Perth, ahead of the Scottish council elections in 2012.
Logica, the company who built the "eCounting" system, said 160,000 ballot papers would be run through the machine in a "robust test".
The test was monitored by Local Government Minister Aileen Campbell.
The technology is designed to count millions of votes in 32 count centres around Scotland.
Logica managing director Martin Ewart said the technology was much faster than a manual count and would be "more transparent".
"This test is a crucial milestone in the project to make eCounting a reality in 2012," he said.
The company was awarded the contract for the vote counting system in October 2010 and has been testing it over the past eight months.
Ms Campbell said: "This is the third stage of the rigorous testing of the e-counting system ahead of the 2012 local government elections.
"We are working very closely with all 32 of Scotland's returning officers and their staff to make sure we have an e-counting system that counts the votes efficiently, effectively and in a way that increases the transparency of the entire local government election process.
"Today's demonstration forms part of this important work."
The 2007 Scottish Parliament elections were marred by delayed counts, which many people blamed in part on the electronic vote counting system then being used.