Edinburgh Art Festival takes step to heaven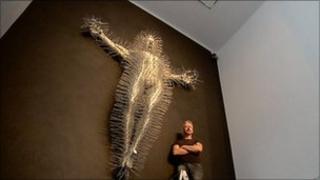 A public artwork on a set of Victorian steps and a major exhibition inspired by the King James Bible are featured in the Edinburgh Art Festival.
Turner prize-winner Martin Creed has transformed the landmark Scotsman Steps by cladding each of the 104 steps in a different colour of marble.
Artist David Mach's new work translates biblical imagery into modern settings.
The month-long art festival also features leading artists such as Anish Kapoor and Robert Rauschenberg.
It is Kapoor's first solo show in Scotland.
As well as Creed's work on the Scotsman steps, which were built in 1899 and run from North Bridge to Waverley Station, the programme includes another new public artwork.
The Solar pavilion in St Andrew Square Garden is a temporary structure designed by Karen Forbes.
The glass chamber is described as a "contemporary expression of the city's long fascination with optics and optical devices for viewing".
Mach's exhibition, Precious Light, is his largest ever solo show, stretching across five floors of the City Art Gallery.
A larger-than-life-sized devil's head made from thousands of match heads will be set alight later to mark the start of the Edinburgh Art festival.
He had also planned to set alight a replica of Jesus but details about whether this will go ahead are uncertain.
Among the 42 exhibitions which form the festival, there is also a collection of 50 portraits of the Queen, on show at the National Gallery of Scotland.
John Byrne, Elizabeth Blackadder and Tamsyn Challenger are also included in the festival.
Festival director Sorcha Carey said: "EAF is unique in the range and diversity of the practice it showcases and gives festival visitors the opportunity to experience the very best in international visual art in the world's festival city."