Grandstand performance for Tattoo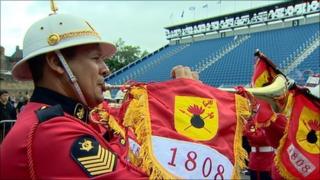 The new £16m arena for the Royal Edinburgh Military Tattoo will be unveiled later as the show begins its three-week run on the castle esplanade.
Organisers promised to open the Tattoo "in spectacular fashion" with a fanfare called "Salute to the stands".
The capacity of the new amphitheatre remains similar, at about 8,800, but organisers said audiences would have a "completely different" experience.
Seats have 35% more leg-room and there is a better view and sound system.
For the past 12 years, the Tattoo, which has been running since 1950, has sold out all the tickets for its entire run.
This year organisers said that 98% of tickets were sold and they were confident the run would be a sell-out for the 13th year in a row.
Chief executive and producer Brigadier David Allfrey said: "Demand for tickets this year has been incredible, particularly given the current economic challenges."
Earlier indicators are that more British visitors and tourists from Europe, especially Germany, are replacing the American Tattoo watchers.
The theme of this year's Tattoo is "Of the Sea".
The Royal Navy will perform its field gun display at the Tattoo for the first time.
It will also perform a piracy patrol operation using the latest "modern production technology".
As usual it will feature more than 1,000 performers from around the world, many of them military personnel.
One of the more unusual elements will be the 40 military musicians from the Netherlands who play while riding bicycles in military formation.
Other international attractions include the 90-piece Brazilian Marine Corps Martial Band and the German Mountain Army Band from Bavaria.
The new £16m arena will be celebrated at the start of each performance with a specially-commissioned fanfare.
It will be performed by the Massed Pipes and Drums.
The previous grandstand dated back to 1975 and there were complaints that it was cramped and took too long to erect and dismantle.
From next year, the new arena should be built in 40 days instead of the 80 it took before.
It will take 37 days to dismantle, about half the time it took previously.
The seats are larger and there is more premier seating and VIP boxes.
The Tattoo put up more than £4m for the new amphitheatre and has taken out millions of pounds in loans.
Funding also came from the Scottish government, Scottish Enterprise and Edinburgh City Council.
After the Tattoo finishes on 27 August, the new arena will host concerts by Arcade Fire and Bryan Ferry before it is taken down.
Culture minister Fiona Hyslop said: "Edinburgh's spectacular Military Tattoo is one of the highlights of the festival calendar."
She added: "The impressive new grandstands, supported with funds from the Scottish government, will reinvigorate the Tattoo, enhancing the experience for spectators and performers alike."