Hague 'outrage' at Lockerbie bomber's TV appearance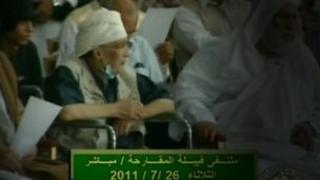 Foreign Secretary William Hague has said a TV appearance by the Lockerbie bomber will intensify the "anger and outrage" at his release from jail.
Abdelbaset al-Megrahi was at a rally broadcast by Libyan state television.
Mr Hague said it was "a further reminder that a great mistake was made" when he was freed by the Scottish government nearly two years ago.
Scots Justice Secretary Kenny MacAskill said all the rules on compassionate release had been followed.
Mr Hague said the medical advice on which the decision had been made now appeared to be "pretty much worthless".
Scottish Labour leader Iain Gray added that events had shown "how wrong" the move had been.
However, Mr MacAskill said it was based on the best information available at the time.
"The medical evidence was provided by the director of health and public care at the Scottish Prison Service," he said.
"He's the most senior doctor that we have there and, as I say, this is an inexact science.
"Mr Megrahi has lived beyond the three month prognosis - that's due to the best medical care that doubtless can be provided in Libya."
He said he understood the pain felt by the families of the victims but said the UK government had more questions to answer than its Scottish counterpart over why it would "consort with an evil tyrant" like Colonel Gaddafi.
Megrahi, who had been diagnosed with terminal prostate cancer, was released from Greenock Prison on compassionate grounds in August 2009.
It was estimated at the time that he had about three months left to live.
However, Megrahi appeared on television earlier this week at a rally of members of his own tribe.
In the broadcast from Tripoli, which was described as live, Megrahi was seen in a wheelchair.
After playing the national anthem, a presenter said "half of the world" had conspired against Megrahi.
He was convicted in 2001 of carrying out the 1988 atrocity, in which 270 people died when a US airliner was brought down over southern Scotland.
Megrahi returned to Libya after his release and has rarely been seen in public.
Scottish Labour leader Iain Gray said: "The sight of Megrahi, the single man convicted of the worst terrorist atrocity ever committed on Scottish soil, acting as a cheerleader for a dictator indicted for war crimes has turned the stomach of our nation and continues to be a massive embarrassment for the SNP government."
He added: "At the time I said the decision was wrong and events since have vindicated just how wrong that decision was."