Road crash rate falls at camera sites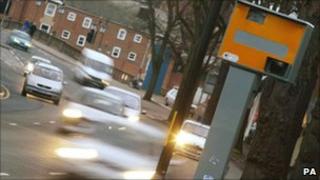 Accidents involving death or serious injury have fallen by 63% near safety cameras, according to official figures.
The reduction was highlighted in the Scottish Safety Camera Programme statistics for 2010, just published.
It was in the context of an overall drop of 44% in serious accidents on all roads in Scotland.
Safety campaigners have said the statistics show the use of safety cameras is an effective road safety tool.
The figures, issued by Scotland's chief statistician, measured the accident rate against a baseline average from the years before the cameras were installed, in some cases from 1997-99.
Cameras have been used to monitor speed and compliance with traffic signals.
The number of people issued with a fixed penalty after being caught on camera has declined by 60% over the past six years.
Kathleen Braidwood, Rospa road safety officer, said: "With an average of ten fewer accidents involving injuries every week at safety camera sites, it is clear that cameras are helping to reduce the misery caused by crashes across Scotland.
"The use of cameras is part of a comprehensive strategy to prevent speed-related accidents, involving many partners and a variety of approaches."
The official figures indicated that, by the end of 2010, there were 170 fewer fatal or serious accidents at safety camera sites per year.
In 2010/11, the Scottish government spent £6.5m on the safety camera programme.
Official estimates indicate that one fatal accident can cost £1.8m.
Lothian and Borders Safety Camera Partnership manager Julie Roy said: "As there is no link between the funding of cameras and the number of offenders detected, the figures demonstrate clearly that the aim is to reduce the number of motorists willing to risk the safety of others.
"Safety cameras are funded through a grant from the Scottish government in the interests of making communities stronger and safer by deterring speeding and red light running."