Lockerbie bomber seen on TV rally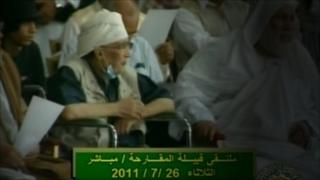 The man convicted of blowing up a plane over the Scottish town of Lockerbie in 1988 has appeared at a rally broadcast by Libyan state television.
Abdelbaset al-Megrahi was released from prison in Scotland almost two years ago on health grounds.
Introducing him at a televised rally of members of Megrahi's tribe, the presenter said his conviction was the result of a conspiracy.
He said his release had been a victory against oppression.
The 1988 bombing of the US airliner, flying from London to New York, killed 270 people.
Megrahi was convicted of the atrocity in 2001 but released in August 2009 on compassionate grounds, as he was suffering from prostate cancer.
The Scottish government judged that he had about three months to live.
Megrahi returned to Libya, since when he has rarely been seen in public.
During the broadcast from Tripoli, which was described as live, Megrahi was seen in a wheelchair.
After playing the national anthem, a presenter said "half of the world conspired against" Megrahi.