Fresh Talent's shelf life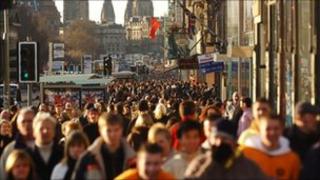 It's less than 10 years since Scotland appeared to be running out of people. The population was heading downwards towards the five million mark, which was seen as having a psychological impact about decline.
There are also economic impacts from demographic change, as older people replace younger ones, increasing pension and health costs and reducing dynamism within the economy.
That was why First Minister Jack McConnell made a turnaround in population a key target for his Holyrood administration.
He drew a cross-party consensus around a positive approach to immigration, even extending to normally anti-immigrant newspapers, while tussling with the Home Office over immigration rules.
The pressure has been reduced primarily by central Europeans, mainly Polish, attracted to Scotland by jobs and higher pay than in their home countries.
On your bike
But the issue of Scotland's population remains a live one.
The commentator Alf Young recently, powerfully, wrote in The Scotsman about the lessons of the Inverclyde by-election, linking the challenge to politics-as-usual to the impact of depopulation in several parts of Scotland - far moreso than other parts of the UK.
Part of that is about internal migration to where the jobs are. Rather than waiting for jobs to come to them, people are - understandably - leaving to go where the jobs and opportunities are.
Without being told to get on their bikes by Norman Tebbit, as he told the unemployed people in the 1980s, that's pretty much what many are doing.
The Scottish Affairs select committee report into student visas, out today, takes us back to the question of how to make a long-term impact on population, while attracting the most highly-skilled people to Scotland.
It says there's complacency from the UK government about the impact of its constraints on visas for students, when their fees are so important to university finances, and when there is a need to attract those highly-skilled foreigners.
The report also highlights what happened to the Fresh Talent initiative - the name of Jack McConnell's programme that offered non-European Union graduates of Scottish universities a couple of years to work in the country, giving them a chance to test working life in Scotland, in the hope that they'd like it and stay.
Skills shortage
It turns out that half of those who qualified for Fresh Talent then left Scotland to find opportunity in other parts of the UK.
A quarter worked in jobs that didn't require their skill levels, primarily waiting tables and serving in bars, and only around a quarter of the total stayed in Scotland and actually used the graduate level skills they had acquired.
That's despite evidence from the private sector's skills experts that the country will need thousands of engineers, managers and technicians for expanding industries, including the creative sector, energy, financial, food, drink, life science and tourism.
Put these issues together and you get the often sensitive question of whether more should be done to train up native Scots to take those job opportunities.
The UK minister appearing before the select committee thinks that more open immigration rules means a failure to create incentives for employers, government, colleges or universities to provide the necessary training and education for those from closer to home.
And of course, there is a big incentive to universities and colleges to attract more non-EU students for their higher fee levels.
So could a more liberal approach to visas, foreign students and immigration merely allow employers off the hook of responsibility for training?