Cuts fear for Scottish battalion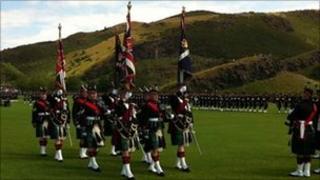 One of Scotland's infantry battalions could be lost in the next round of cuts, according to a former officer.
Clive Fairweather said the Argyll and Sutherland Highlanders may become a Territorial Army (TA) battalion.
Mr Fairweather has also suggested that another battalion, the Highlanders, could be at risk.
Concern has been sparked by a letter sent to commanding officers from a senior colleague.
The government's Strategic Defence and Security Review (SDSR) last week announced a loss of 7,000 Army jobs and a strengthening of the part-time Territorial Army.
In a letter to commanding officers General Sir Peter Wall, Chief of the General Staff, warned that a further 5,000 regular soldiers could be made redundant as the Army seeks to reduce manpower to 82,000 by 2020.
He wrote: "Although the detailed planning is not yet complete, we must assume that these reductions will require the further removal of formed battalions and regiments from the force structure, including the combat arm."
Clive Fairweather, who was involved in a previous army rationalisation "Options for Change" in 1990, said it is inevitable the Argylls - the 5th Battalion Royal Regiment of Scotland - will be turned into a TA unit.
He also warned that the 4th Battalion - the Highlanders - could also be at risk.
Cap badges
"They will be looking for cuts in the most junior battalions and those where recruitment is weakest," Mr Fairweather said.
"Although the Argyll and Sutherland Highlanders are a Highland battalion, their recruitment is mainly from central Scotland - Alloa, Falkirk and Stirling.
"The Highlanders could also be at risk if the Army wants to make further cuts in Scotland."
Mr Fairweather said if cuts were to be made, the Army would seek volunteers for redundancy until the battalions' regular strength was reduced and it became a TA unit.
He added: "Turning them into territorial units would at least mean the cap badges would be retained."
Mr Fairweather recently stepped down from a position with the Argyll and Sutherland Highlanders Army Cadet Force, and had previously served in the 1st Battalion, the King's Own Scottish Borderers.
A Ministry of Defence (MoD) spokesman said the concerns were "pure speculation."
Regular army
He said: "No-one who is preparing for or is deployed on operations will be made redundant unless they volunteer.
"Only those who have returned from operations and have taken all their leave will be considered."
Savings sought by the government by reducing the size of the regular army will help boost the numbers in the TA to 30,000.
The Argyll and Sutherland Highlanders, which was founded in 1881, has been threatened with extinction before.
In 1968 it was reduced in strength to a single company, but reformed as a regiment following a massive public campaign to "Save the Argylls."