Edinburgh's festival season begins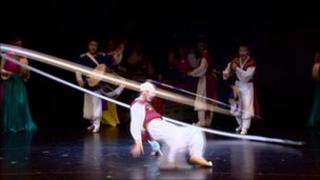 Edinburgh's festival season has begun with the official opening of the Fringe and the Royal Military Tattoo.
The Edinburgh Fringe is the world's largest arts festival, with 2,542 shows in 258 venues over three weeks.
The Royal Military Tattoo is celebrating its 61st year with the opening of a new purpose-built grandstand on the castle esplanade.
The festival season also includes the Edinburgh International Festival, which begins on 12 August.
The International Festival invites major cultural talent from around the world to perform in the city's larger venues.
While it programmes classical music concerts, opera and large theatre productions at the Usher Hall, the Festival Theatre and the Edinburgh Playhouse, the Fringe is open to any performer and they can perform anywhere.
Fringe venues include university lecture theatres, pubs and nightclubs, and numerous specially-constructed tents.
Comedy dominates the Fringe, taking up more than a third of the programme.
Established comics such as Phill Jupitus, Stewart Lee, Richard Herring, Ed Byrne and Sarah Millican are performing alongside rising stars such as The Boy With Tape On His Face and Imran Yusuf.
American comedian Kristen Schaal, who has found success with Flight of the Conchords and the Jon Stewart Daily Show, makes her Edinburgh return and last year's Edinburgh Comedy Award winner Russell Kane brings his new show, Manscaping.
Cabaret gets its own section in the Fringe programme for the first time, though the broad range of shows included make it impossible to describe exactly what the word means.
Fringe veterans Fascinating Aida, whose Cheap Flights song became a Youtube sensation, are included in the cabaret section alongside the Lady Boys of Bangkok and the Club Noir Burlesque show.
In theatre, US film and TV star Alec Baldwin will make an appearance in a 3D version of Hamlet, however, his performance will be via pre-recorded technology.
But Hollywood actor John Malkovich is in the city directing his friend Julian Sands in A Celebration of Harold Pinter.
And British thespian Simon Callow is starring in an adaptation of the French hit Le mardi à Monoprix, translated as Tuesdays at Tesco.
Dance Marathon could be one of the longest shows at the Fringe - at three and a half hours.
It is inspired by Sidney Pollack's They Shoot Horses, Don't They? starring Jane Fonda.
Audience members are cast as performers and should be ready to take part in the marathon dance competition.
If that sounds exhausting, the longest show, Hotel Medea, is six hours long and starts just before midnight.
The ground-breaking interactive show, based on the Greek tragedy Medea, aims to blur the lines between actor and observer.
It will end with the audience joining the cast for breakfast.
Depending on the audience a show called You Once Said Yes could be even longer.
It promises to keeps going as long as the audience says 'yes'.