Sat-nav check traps attacker Alexander Gable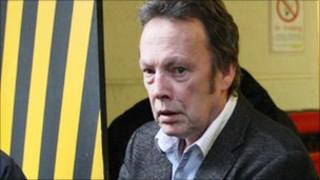 A convicted rapist who carried out four attacks on elderly women in their own homes was caught after his car's sat-nav was checked.
Alexander Gable tied up and threatened the women, aged between 74 and 94, and indecently assaulted three of them.
The 55-year-old forced his victims, who lived in Ayrshire, Stirlingshire and the Highlands, to reveal their bank pin numbers, so he could steal their money.
Police believe there may be more victims who have yet to come forward.
Gable has a number of previous convictions - including having served a 10 year jail-term for raping a widow in her home in the Borders in 1989.
He was also locked up in the Republic of Ireland in 2009 for a spate of break-ins. In one, he stole takings from a priest's house.
The four Scottish attacks took place between May 2009 and July 2010.
The women all lived alone in ground floor properties.
Gable's first victim was an 82-year-old woman after he got into her home in Kilmaurs, Ayrshire.
He woke her up, tied together her wrists and ankles and demanded the pin number for her bank card after which he stole £300.
On July 7 last year he carried out a similar assault on a 74-year-old pensioner at her home in Kilmarnock, Ayrshire.
This included forcing a blanket into her mouth and hiding telephones to stop her getting help. Gable again used a bank card to steal £300.
He then targeted a 87-year-old woman 11 days later at a property in Callander, Stirlingshire, and stole £600.
'Making up lies'
His final victim was a 94-year-old woman in Alness in the Highlands whom he threatened with a metal bar.
Gable fled the property after his victim said to him: "Would you treat your mum the same?"
Gable was arrested for the attacks as he came off a ferry from Ireland last year.
Specialist software was used to download information from the Sat-Nav device in his car.
It located him at or close to the crime scenes. He was found to have been just 20 seconds away from one of the auto-tellers he used to steal cash.
His DNA was also discovered on a handbag from the raid at the house in Kilmaurs.
Gable denied the attacks and told the jury he had been travelling across Scotland looking for premises to open a cafe or a florist shop with his Polish partner.
Prosecutor Paul Kearney told Gable he was "making up lies on the spot" and branded his claims "ridiculous"
Gable is due to be sentenced at the High Court in Edinburgh on 14 October.
Det Insp Ronnie Isles said: "I am certain there may be other victims in Scotland who may not have come forward to the police yet.
"I can assure them that if they come forward that we will treat them with the utmost respect and dignity and we will investigate to the best of our abilities."