NOTW phone hacking: Salmond blasts UK press regulation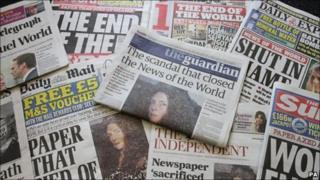 The first minister has accused the Westminster government of failing to properly regulate the press in the wake of the phone hacking scandal.
Alex Salmond told BBC Scotland that any journalists, on any publication, who acted illegally must be prosecuted.
In Scotland, prosecutors have asked police to examine specific claims of phone hacking by the News of the World.
Rupert Murdoch is due to arrive in London this weekend to take charge of the News International group crisis.
Mr Salmond said: "What has surfaced this week is the huge controversy over the total, abject failure to regulate the press in any effective way.
"We now know that the information commissioner presented evidence in November 2006 covering our major publications - thousands of instances of potential breaches of the law - and yet the Westminster government did absolutely nothing to bring the range of houses into order."
Shadow Scottish Secretary Ann McKechin accused Mr Salmond of misjudging the mood of the country.
She said: "I have asked Alex Salmond to join me in calling for Rebekah Brooks to resign without delay and am astonished that the first minister has still remained silent on this key point.
"Political leadership is demonstrated most clearly by a willingness to speak out against powerful organisations that do wrong, without fear or favour."